Question by "Giggles": Help cancer!?
I have heard of cottage cheese and flax seed oil curing cancer in europe. I need some help. Have you any Alternative cures to cancer I know kemo has killed many people and I would like some other way to end cancer in my love ones life. Please tell me more about Alternative cures ! Thank you!!!!!
Best answer:
Answer by David
try "buah merah" (red fruit ) from indonesia, many scientist says it works to cure cancer
Add your own answer in the comments!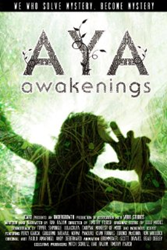 San Francisco, CA (PRWEB) May 13, 2014
In May 2014, Keyframe-Entertainment launched Keyframe-Cinema, its new community film screening platform that allows Transformational filmmakers to share their movies with fans, film buffs, and festivals. The platform is designed to facilitate the community film screening process, and also automates the licensing and delivery of media to film screeners.
In addition to its roster of Conscious films "Electronic Awakening," "The Bloom Series," and DMT: The Spirit Molecule," Keyframe-Cinema is adding "Aya: Awakenings" to its platform. "Aya: Awakenings" is a narrative documentary by Rak Razam that dives into the world and visions of ayahuasca plant medicine and shamanism. The film's soundtrack also features Electronic music by Shpongle whose music also appears in "Electronic Awakening," and Tipper of Tippermusic.
"Aya: Awakenings" aims to harness and foster the ongoing cultural emergence and interest in the shamanic practices of the Amazonian indigenous communities and the Ayahuasca vine they hold sacred. Ayahuasca–known as the "vine of souls"–is a legal South American hallucinogenic plant that has been used by Amazonian people for millennia and believed to heal physical ailments and cleanse the spirit.
Recent film releases indicate that there has been a significant trend in related topical films that is garnering worldwide attention. Films such as "DMT: The Spirit Molecule" and "Sacred Science" which explore the effects of Amazonian plant medicine on healing a variety of ailments (such as Parkinson's disease, breast cancer, Crohn's Disease, diabetes, depression, prostate cancer, neuroendocrine cancer, IBS, and more), are shedding light on what is part of a global movement of awakening and Transformational films.
In addition, media sources such as Marie Claire and NYMAG have covered the growing trend of ayahuasca use, as well as the Washington Post, New York Times, and Time Magazine featured in the blog post "Ayahuasca in the Mainstream Media". Likewise, Google data has shown an increase in "ayahuasca" and "DMT molecule" search queries. The media's increased coverage of the topic points to a plethora of ideas, journeys, stories and experiences actively and increasingly being shared about Amazonian plant medicine.
In an interview earlier this year, Writer/Producer Rak Razam told the LA Weekly, "Indigenous cultures all over the world still use plant medicine that are psychoactive and change the brain in some way. Iboga is used in Africa, ayahuasca is on the rise, psilocybin is being tested in hospitals at John Hopkins and in England for people with post traumatic stress disorder…. At this point in time we're living through a paradigm shift and an age of ecological transformation, if not devastation. We're living through a time where the systems that support us in Western culture seem to be failing, whether it's the financial system or the political system. There's this sort of spiritual sense of malaise, or unease, where people are hungering for something authentic or true." As such, the ultimate theme of the documentary is to explore that it's not just the ayahuasca or other entheogenic plants that Westerners are returning to, but to a larger sense of their own spirituality and a deep-seated need to re-connect to something meaningful and larger than themselves.
Simultaneously, scientists around the world are now exploring the risks and benefits of psychedelics—such as MDMA, LSD, psilocybin, ayahuasca, ibogaine, and many more—to recover from trauma, heal illness, enhance creativity, awaken spirituality, and transform consciousness. To address and reveal some of the research in the field, Evolver and the Multidisciplinary Association for Psychedelic Studies (MAPS) have produced their first ever online course set to begin May 7th, 2014. Titled "Psychedelic Science: How to Apply What We're Learning to Your Life," the course features guests Rick Doblin, Gabor Maté, Rak Razam, and Alicia Danforth. All of these experts also presented their work at the historic Psychedelic Science 2013 conference in Oakland, Calif., which brought together over 1,900 people from around the world to share the latest research results and celebrate the return of psychedelics to mainstream science and medicine. To view the schedule, including the May 14th webinar "Psychedelics in Addiction Treatment and Spirituality" with guests Gabor Maté, MD, and Rak Razam, go to: http://evolverlearninglab.com/products/psychedelic-science-how-to-apply-what-we-re-learning-to-your-life.
To learn more about Rak Razam's work, including upcoming "Aya: Awakenings" screenings, go to: http://www.aya-awakenings.com/. To learn how to screen the "Aya: Awakenings" film in your town, go to Keyframe-Cinema.
About "Aya: Awakenings":
AYA: AWAKENINGS is a narrative documentary that dives into the world and visions of ayahuasca plant medicine and shamanism, adapted from the cult book 'Aya: a Shamanic Odyssey' by Rak Razam. By blending narration directly from the book with video footage, interviews with practising curanderos, samples of traditional icaros or magic songs, photographs and cutting edge special effects, "Aya: Awakenings" reproduces the inner landscape of the visionary state in unprecedented detail, invoking a spiritual awakening in the viewer. Featuring the artwork of Pablo Amaringo, Andy Debrenardi and more; video editing by Verb Studios, soundscapes by Lulu Madill Buttons Touching Productions and music by Tipper, Darpan, Lula Cruz, and curanderos Guillermo Aravelo, Percy Garcia Lozano, Ron Wheelock and Kevin Furnas, this documentary charts the Global Shamanic Resurgence born in the jungles of Peru and reaching out to embrace the world.
About Keyframe-Cinema:
The Keyframe-Cinema film screening platform is an online service that allows filmmakers to share their work with fans, film buffs, and festivals. The platform is designed to facilitate the community film screening process, and also automates the licensing and delivery of media to film screeners. The creation of the platform was prompted by the combination of industry growth, Keyframe's love for Electronic Music culture, and its years of experience managing community screening campaigns for "Electronic Awakening" and "The Bloom". As such, Keyframe-Cinema's catalog of films aims to display a variety of Transformational films, including documenting the evolution of Electronic Music Culture by unearthing, gathering, and sharing past films through community screenings.